Name:
Sasori
Nickname:
Scorpion
Age:
Unknown
Gender:
Male
----------------------------
Physical Information
Character Picture: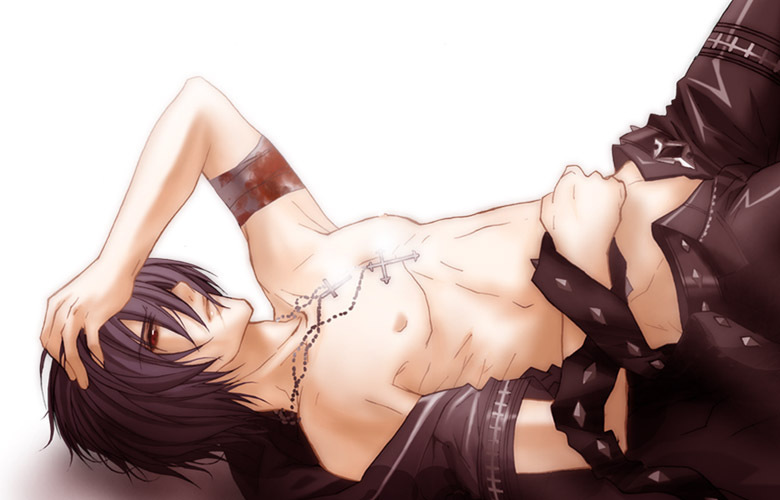 Soul Appearance:
simply blue if soul protect is on, other then that purple with a scorpion tail.
Description:
Height: 6' 9"
Weight: 121
Eye color: red
Defining Marks:
tattoos of a scorpions on arms, legs, and chest, these are usually used in different sizes for his power to manifest in them and become small or giant creatures.
----------------------------
Abilities
Animal:
Scorpion
Powers:
his magic manefests scorpion tails and claws for attacks and defense.
Spoiler:
----------------------------
Mental State
Personality:
He serves under one master to protect that person he is very loyal to the person, he is also perverted and playful to his enemy. He hardly wears a shirt which signals his pervertedness. but when he gets serious all hell breaks loose. when he sees a hot and sexy girl during a fight, he forgets of the fight and goes to bother them till he is rejected. he shows a small personal interest in actual scorpions but its only to have fun and pull jokes on people. He is always ready to fight if his master is involved in an attack on him. as in he will fight for his master.
Mentality:
Sane
----------------------------
History
J was born into a family of five, His parents his two brothers and a sister. But on the day that he was born his brother and sister were sent to live with their grandmother. This left J with his older brother Lawiet. As he became old enough to say words and name laweit was the closer to him taking care of him as their mother and father went or work at the police station and the hospital as a nurse. At the times they were together laweit wanted someone to talk to as he would look to his baby brother. That day laweit began to teach J how to talk. Even though knowing how to talk from tha day J and laweit gave each other nick names. Shisha's was J. And laweit's nickname was L. Due to that fact that his name was a little hard for J at the time so they came up with taking the first letter of laweit's name. About eight year later when J became ten his brother and him had a great bond. Now being 20 Lawiet was able to take up longer jobs but refused as he would also refuse college even with his scholarship. Laweit decided to stay home and teach his little brother. J's other siblings had been away for a long time. Making it that J had no idea of them even living.
It had been 10 days since J's missing siblings called their parents only to talk to them. With faces of worry J decided to study his parents knowing something was up. After enough of studying them for a year he got the since of emotions and ripped them out of himself seeing the problems and mistakes that emotions would do and how they would hold him back in life. One night J and his brother L went out on the town once they had all moved to a new weird town. Leaving their parents at home. When they finally go home they walked into the killing of their parents by a man that was a native of the town. That day J's theory on emotions getting in the way of his life was shown. J went from happy to furious. The killer had only turned and pointed the gun at the two smiling. J screamed as he knocked over a candle starting a fire in the house. . Giving custody to Laweit. Once done they were given a box of stuff recovered from the fire. Three years later J still didn't open the box that he was given. Now fourteen he was different from when he was eleven. That day he opened the box to find toys and in the middle of the color was a white note which spoke of near's two siblings going to an academy.
After that day J awoke to the next mourning. Waiting for his brother to get up and fix the food. After waiting an Hour J went to check on his brother L only to find his pale dead body laying on the bed. His face showed no movement no emotion in it. As he stormed into his room and packed his clothing. After doing so he took some of his brother's clothing.As a witch he was treated like crap from the others for he had no control of his power. He had always wanted to kill both Arachne and Medusa but couldn't because of their deaths, one day he meet a person who toke him as a so called child. For ten years he trained his power so he could be stronger. When he heard of the death of Arachne he cursed the people that did it. the following year he heard of Medusa's death, he had thought the training he did was for nothing now till his master told him that it was to protect the person his master. after so Sasori went on to do as told.
Sample Rp