Name: Skyla SandersNickname: Sky, Sanders, Blade Type Number 18 Age: 370Gender:F
----------------------------
Physical Information
:
Character Picture: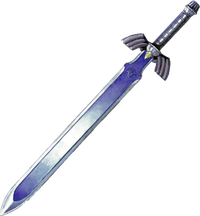 Soul Appearance:
Description:
Skyla is a gladius-sword type weapon. In her weapon form she has a purple pommel, dark blue hilt, and a pale silver blade. She has no sheath. At the center of the pommel is a small golden gem. In her humanoid form, she appears as a short human girl. She wears a bluish cloak over her pale silver skin and her face is mostly featureless. Oddly, she has no arms and usually floats from location to location. The gold jewel appears as a pin for her cloak. And in both forms the gold turns red when she is in danger or angry.
Height: 4'8''
Weight: 100 pounds even
Eye color: Solid Blue-Grey
Defining Marks:
Color changing gem, no arms
----------------------------
Abilities
Spoiler:
----------------------------
Mental State
Personality:
Skyla is rather calm and quiet, but works well in teams and extremely intelligent. She is not anti-social, but does go around spewing ideas. She has also been known to make strong friends rather slowly. Despite her age, her process of rebirth leads her to be rather maternal, with wisdom far beyond her years. She is not a violent person and prefers to observe and record fights, acting as an advisor rather than main combatant.

She often calls people out on inappropriate behavior and often responds harshly to comments as such. She will not endanger her true friends, but would not give up the chance to push them to their very limits, and as such, may wait until the climax of a battle to actually intervene.

In combat she has no sole desired partner, nor does she necessarily desire a sword master. She also does not feel the need for a strong connection between each user, even if that means not reaching full power at all. She does not tend to partially change like many other weapons, going straight into her blade form when she first decides to fight. She is not good at fighting alone at all.

Mentality: Skyla is perfectly sane and refuses to hear anymore about it. She favours the teachings of history over intuition.
----------------------------
History
Unlike many of the other weapon families in the world, Skyla is literally a family of one. Every few human generations, she is reborn in a slightly different body, effectively making herself her own mother. Skyla's current form was born about 7 years ago.
She had a stint for a couple years with a meister partner, but dropped it in favour of helping out the academy more often. She is currently a keeper of records in the academy's great library, specifically in charge of personal records of all weapons that have been trained at the academy.
Her current incarnation has had too much of a dramatic life and she cannot accurately remember her past forms' lives. But from what she's managed to figure out from others, two generations back she successfully became a death scythe, and while she wouldn't mind becoming one in her lifetime, it isn't at the top of her priorities.
As of now, she is a member of faculty, serving as one of the school's librarians and on occassion substituting for the history or paperwork teachers.
Sample Rp
Gok and Tekik haulted their flight mid air as they saw a bleeding green light hurtling toward them. In his peripheral vision, Gok could see his companion's eyes flash in a radar like motion, it reminded Gok of a loading bar on one of Sinestro huge computers within his tower. It lasted only a split seconds, but the hesitation in their advance allowed him enough time to survey the situation.
When Tekik spoke, his voice was hastened, and he had already reconstructed his flight field around him, " Split 98 degrees north, GO" Gok sped off in his given direction without even seeing where Tekik headed off too, but when the shock fell off, his senses returned to his full control, and the information from the ring let him sense the position of the green bullet and his commander. Tekik's voiced rang clear across the communication line, " Don't stop, he can only follow one of us, the one who is free goes after the blue, I saw him heading farther east." There was a pause before Tekik continued his command," The Green Lantern has set himself on a collision course and will gain on of us entirely fast, but with the delay of encountering one of us, he won't be able to make up the time on the second. If he pursues you, increase your power consumption rate to 900% and throw yourself back at him. With the additional weakness set on by Yellow, he will still be able to hit you, but will not be able to avoid harm, force him into close combat and evade."
As the voice died out, Gok grit his teeth. Perhaps in some other reality, the Yellow Lanterns would have arrived first, and this crisis could have averted, but for all intents and purposes, the Green Lantern was the agressor. Gok would be happy with either outcome of the current situation, he was afraid of the pain that would come from smacking himself at full power against someone effectively twice his mass, but he wondered if he could win an extended battle against a experienced Green Lantern. One things for sure, of the two of them will catch the Blue Lantern, and when they do, he better be hoping it is Gok who find him. Even Gok would not be surprised at what Tekik might do to just put the issue at rest quickly.
In the back of his mind, he could feel Tekik sending out a backup message to the relatively close planet of Quard, but he paid it no mind.